Montecore: The Silence of the Tiger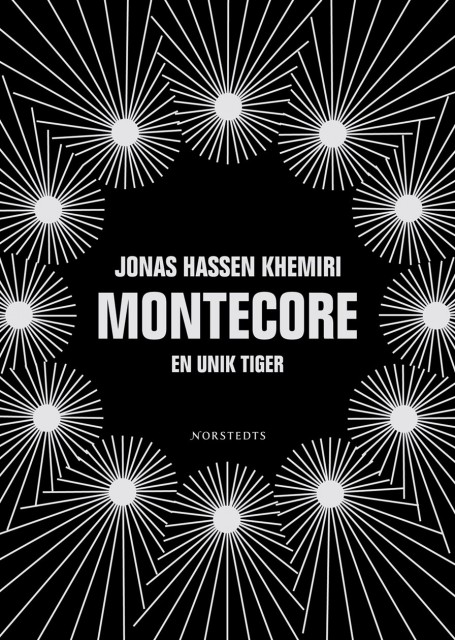 A young writer, incidentally named Jonas Hassen Khemiri, is about to publish his debut novel when he receives a letter from a man claiming to be his estranged father's close friend Kadir. Kadir, who writes in a bizarrely highfalutin prose mirroring direct translations from Arabic and French, makes a proposition: he will supply Jonas with the facts of his father's life and Jonas will make this magical biography the subject of his next book. Jonas agrees, however tentatively, and a dazzling – often hilarious – written exchange begins.
Kadir details Jonas's father Abbas's humble beginnings as an orphan in Tunisia, their time together as young Casanovas wooing bountiful tourists, and Abbas's subsequent fight to establish himself in Sweden after falling in love with Jonas's mother. Jonas, in turn, writes his childhood memories of growing up in a family strained by dire financial straits and of a bitter and broken-down father who struggles to make his way in his – often hostile – adopted country. From the outset, Kadir and Jonas's versions of Abbas diverge. Through Kadir and Jonas's impassioned correspondence emerges the figure of a man who is at once an artist with irrepressible joie-de-vivre and the trampled victim of relentless prejudice and unforgiving circumstance. But what really happened?
In this playfully brilliant novel, a fundamental question of narrative power is posed: who has the right to tell someone else's story? Is Kadir manipulating Jonas, is Jonas deceiving his father, or is the writer of the novel, the real Jonas Hassen Khemiri, actually hoodwinking the reader? As the two narratives unwind into a veritable battle of memory and language, another question rises to the surface: who is Kadir, really?
Montecore: The Silence of the Tiger is a wild ride of unrelenting linguistic ingenuity that is as much about the power of language itself, as it is a heartbreaking portrayal of an estranged father and son.
Montecore: The Silence of the Tiger was a critical and popular success upon its first publication in 2006 and received the P.O. Enquist Literary Prize, won Swedish Radio's Award for Best Novel, and was nominated for the highest literary prize in Sweden, the August Award. The US version of Montecore: The Silence of the Tigerwas listed as a New York Times Editor's Choice. The New York Times Book Review called it "wondrous."
---
"[F]unny, ambitious, and inventive. Also black: rage and tragedy pulse beneath the fireworks…a potent chemical mix."
– The New York Times Book Review (US)
"You devour it. (…) There isn't a dull moment, it's bursting with narrative joy."
– Aftonbladet (SE)
"Montecore not only lives up to its enormous expectations – it surpasses them."
– Borås Tidning (SE)
"It's smart, hip, and inventive, but at its essence it's a heart-wrenching work of incredible craftsmanship."
– Sydsvenskan (SE)
"[A] vibrant story of culture, class, and family history enlivened by Khemiri's subtle wit and voice."
– Publishers Weekly (US)
"To those whose experience of Swedish fiction has been as bleak as Nordic winter, Montecore arrives as a sunny revelation. An exuberant account…the novel in fact challenges assumptions about Swedish identity…[A] rollicking tale."
– Barnes & Noble (US)
"Just how he gets a subject like integration to dance I don't know, but he does it."
– Kulturnyheterna SVT (Swedish Public Television)
"A rich tapestry of warm feelings and inexhaustible energy (…) Jonas Hassen Khemiri has once again taken a classic story and twisted it so that light and shadow fall differently than expected."
–Dagens Nyheter (SE)
"The Father, Abbas, is one of the most tender portrayals I have ever read."
– Göteborgs-Posten (SE)
---
GENRE
Literary Fiction
PUBLISHED
2006
PAGES
364
READING MATERIAL
Swedish and English editions
RIGHTS SOLD
Denmark, Gyldendal
Finland, Johnny Kniga
France, Le Serpent à Plumes
Germany, Piper Verlag
Hungary, Gondolat Kiado
Italy, Ugo Guanda Editore
Japan, Hayakawa
Korea, Minumsa
Netherlands, De Geus
Norway, Gyldendal
Spain, Roca Editorial
Sweden, Norstedts
Turkey, Pegasus
Ukraine, Litopys
USA, Alfred A Knopf
For more info regarding international rights, please Ahlander Agency.
---
Book fuel
Förstora bildspel
Enlarge slideshow
Stäng bildspel
Close slideshow